7. The Great Buddha of Akata (Chokoku-ji Temple)
location: Akata Yurihonjo – 30 minutes from Honjo railway station by car
Chokoku-ji Temple was founded by Zesantaigaku Bonze in 1775.
The 11 Faces Kannon, better known as the Great Buddha of Akata, was completed in 1786, and the outer building, known as the Hall of the Great Buddha, was completed in 1794.
The precincts of the original temple were completely destroyed in a fire in 1888.  The present-day Kannon was rebuilt in 1892 and the reconstruction of the Hall of the Great Buddha was completed in 1896.
The Kannon is 7.87m high and made from mosaic cedar.  It was painted in lacquer and finished with gold paper.
The Hall of the Great Buddha is 21.2 high with a dual-layer wall.  A window in the upper part of the front of the building shows the face of the Kannon.  There is also a large, round pillar which acts as a support for the whole structure.
On February 11th each year a ceremony called "Daihan Kitoe" takes place here.  Participants pray for wisdom, peace and prosperity.
On August 22nd the annual "Shinbutsu Konkoku" festival is held. This festival incorporates gods from both the shinto and buddhist religions, a characteristic which is rarely found in Japan nowadays.
Please enjoy your visit to this religious site.
keywords:  traditions, religious belief
features:  tranquility,  peace of mind 
written by K. Asada
[:ja]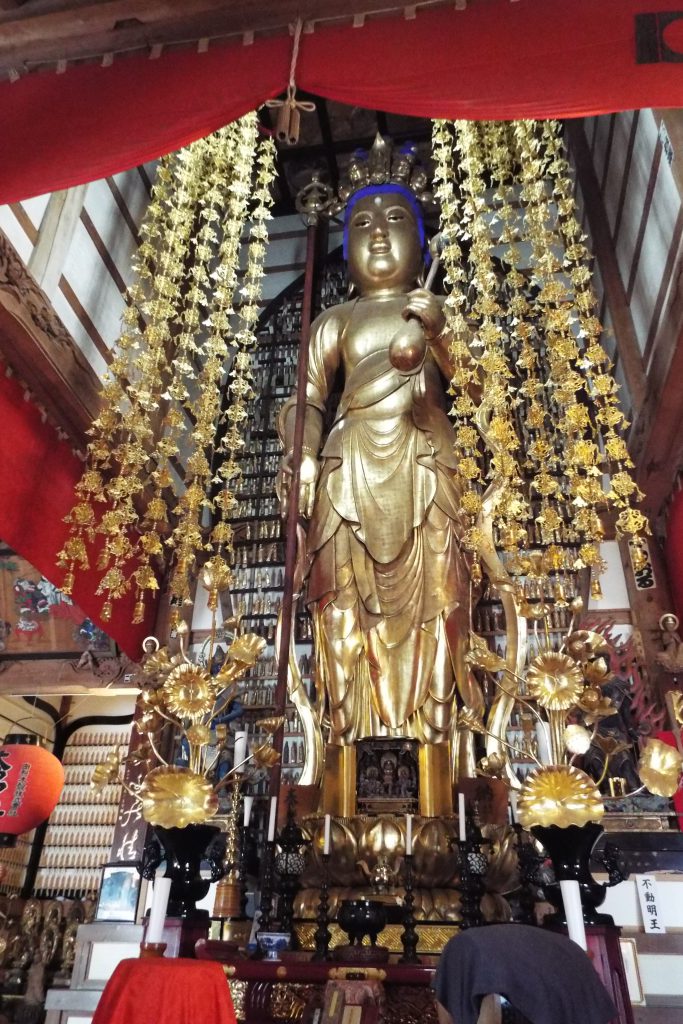 名称 長谷寺大仏殿 赤田の大仏
種別 信仰 風習
場所 由利本荘市赤田
羽後本荘駅から車で30分
イメージ 平穏 安心
概要
市指定有形文化財「十一面観世音菩薩」(じゅいちめんかんぜおんぼさつ)昭和61年2月13日指定、国登録有形文化財「長谷寺大仏殿」(ちょうこくじだいぶつでん)平成25年12月24日指定。
長谷寺は是山泰覚和尚(ぜさんたいがくおしょう)により1775年に開山されました。赤田の大仏として親しまれている十一面観世音菩薩立像は、1786年に完成し、大仏殿は1794年の完成です。残念ながら1888年に火災により境内(けいだい)のすべての伽藍(がらん)が焼失、現在の観音像は1892年に大仏殿は1896年に再建されました。
観音像は身の丈は7.87メートルで杉寄せ木作り、漆を塗り金箔を貼ってあります。大仏殿は総丈21.2メートルの高さを持つ上下二層の建物で上層正面には観相窓(かんそうまど)があります。大仏殿内部でみられる大きな丸柱が一本通しで大仏殿全体を支えています。
毎年2月11日には、平和と繁栄を祈る大般若祈祷会(だいはんにゃきとうえ)、8月22日には現在では珍しい神仏混淆(しんぶつこんこく)の大仏祭典が執り行われます。どうぞごゆっくりお参りください。
K.ASADA
[:]