8. Oriwatari Sentai Jizo Statues (Oriwatari one thousand Jizo Statues)
location: Yurihonjo – 10 minutes from Iwaya railway station by car
These Jizo statues were founded by Zesanzenshi Bonze (the same man who founded the 11 Faces Kannon) around 200 years ago.  Originally, worshippers came to pray before these statues in the hope of long life.
Nowadays visitors pray in front of them for safety to passers-by and young children.
The Jizo statues originate from Fujian Province in China, and in the years after 1989 thousands of them were gradually brought here by contributors from all over Japan.  The statues were set down in rows covering the whole mountain. It took a long time to complete and this place subsequently became the sacred mountain of Jizo.
These Jizo statues have also acquired another name, as "wart-removing Jizo".
It is said that someone took one stone from here home and rubbed a wart with it as they prayed in the hope of curing it … and, sure enough, the wart actually dissapeared.
As a result, anyone who takes a stone away and cures their wart with it is supposed to replace it with 2 new stones from the sea.
keywords:  traditions, religious belief
features:  spiritual, silence, remove warts, bell
written by M Sato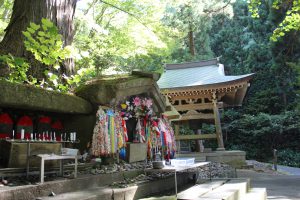 名称 折渡千体地蔵(おりわたりせんたいじぞう)
種別 風習 信仰
場所 由利本荘市
岩谷駅から車で10分
イメージ 心霊、静寂、イボトリ 鐘
概要
今から約200年前是山禅師(赤田大佛開祖)により延命地蔵尊として建立されたものです。現在は、通行人の安全と子守地蔵として知られ、別名イボトリ地蔵としても有名である。
中国福健省で作られた千体地蔵が、全国の寄進者によって平成元年から年月をかけ全山に据えられ、地蔵霊山となりました。
ここに置いてある石を家に持ち帰り、それでイボがある部分を治るように祈りながらこすること、本当にイボが消えたとの言い伝えが有名です。イボが消えたら、新しい石を海から拾ってきて2倍にして返すことになっています。
M.SATO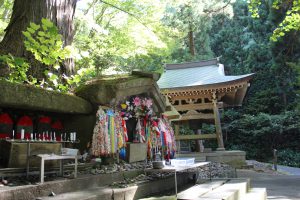 [:]