1. Aqua Pal Boathouse
location:  Kitauraji, Yurihonjo City – 10 minutes from Ugo Honjo railway station by car
Yurihonjo has a long history of success in rowing competitions, right up to national championship level, and the Aqua Pal boathouse (capacity 70 boats) is the focal point for school and resident boat crews.  It is the only boathouse of this size in the Tohoku region.
Inside Aqua Pal, there is a municipal museum dedicated to the nature and history of the Koyoshi river, which flows directly in front of the boathouse.
Many residents also make use of the multi-purpose hall or fitness gym.
Many local events take place at Aqua Pal, such as the citizen's rowing regatta and the summer festival of Koyoshi river.
A visit to the firework festival, which is held here in summer, is also very worthwhile.
keywords:  sport, rowing
features:  must-see for rowing enthusiasts, fitness gym, open rowing regatta, firework festival
written by M. Fujii & T. Ozono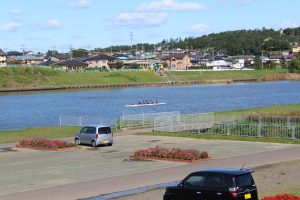 種別 スポーツ ボート
場所 由利本荘市北裏地
本荘駅から車で10分
イメージ ボート関係者必見、フィットネスジム、市民ボート大会 花火大会
概要
ボート競技では日本でも屈指の成績と歴史を持つ由利本荘市。アクアパルは多くの市民グループや学生によりボートの艇庫(70艇)として利用されております。この規模の艇庫は東北では唯一です。また子吉川の自然や歴史を学べる「水と川のミュージアム」、多目的ホール、フィットネスジムも備えられ、多くの市民が訪れております。
毎年子吉川で開催される市民ボート大会や子吉川夏祭りの拠点にもなっております。夏の盛大な花火にもぜひお越しください。
M.FUJII
T.OZONO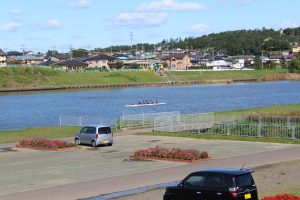 [:]