15. Nikaho-kogen Plateau, Tsuchida Farm
location:  Toushi mountain, Nikaho – 20 minutes fom Nikaho IC (Nihonkai highway) by car
The Nikaho-kogen Plateau spreads out from the northern foot of Mount Chokai.  The hills here are 500m above sea level, and the pasture is expansive, with lakes and swamps dotted around in the bright green hills.
Two important flora of the plateau are the skunk cabbage and Japanese azalea.
Each season brings its own idyllic views which reassure and calm the senses, such as Jersey cows walking freely in the grass, or flowers in full bloom and swaying in the fields.
Another feature are the windmills which generate clean energy from the wind which blows in from the sea and over the plateau.
You can enjoy a panoramic 360 degree view of the whole area: Tobishima-island, Oga peninsula, and even the distant Awashima-island are all visible on the Japan Sea side; in the opposite direction are views of the Oou range of mountains; and there right in front of you is the stunning outline of Mount Chokai.
The animals which feed on the rich pasture in Tsuchida Farm are friendly, and contact with these farm animals can make you feel calm.  There is also a farm store, called the "Milk House", where you can buy milk and dairy products and enjoy a light meal and relax.
The Jersey soft ice cream and cheese on toast are popular products in the store.
keywords:  sightseeing, plateau, pasture
features:  green, wind, windmill, health, Jersey soft-serve ice cream
written by M. Gamou &  H. Ishikawa
名称 仁賀保高原と土田牧場
種別 観光 高原 牧場
場所 にかほ市冬師山
日本海自動車道 仁賀保ICから約20分
イメージ 緑、風、風車、健康、ジャージーソフト
概要
牧場のある仁賀保高原は、鳥海山の北麓に広がる標高約500mの丘陵地帯です。広々とした牧草地、その鮮やかな緑に点在する大小の湖沼、湿原、そしてミズバショウやレンゲツツジなどを見て下さい。四季折々に草花が咲き、その中をたわむれるジャージー牛の姿は、正に安らぎと牧歌的風景を満喫させてくれます。そして高原や海の風を受け回転する風車が、クリーンエネルギーを生み出しています。
高原より眼下に広がる日本海、飛島や遠くに男鹿半島、粟島が望まれ、ふり返れば奥羽の山並み、そして鳥海の秀麗な山容がすぐ目の前に・・・、360度のパノラマが楽しめます。
土田牧場では、牧草で育つ動物たちが元気です。動物とのふれあいで気が和みます。直売所「ミルクハウス」で牧場産牛乳、乳製品の販売、軽食もできゆっくりくつろげます。ジャージーソフト、チーズトーストが大人気です。
M.GAMOU
H.ISHIKAWA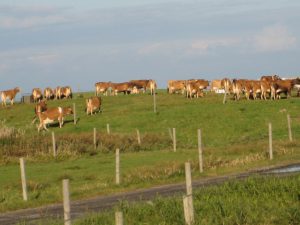 [:]